What's the Difference Between a Butler and a House Manager, Anyway?
"Is he your butler?" writer Taffy Brodesser-Akner asks Paltrow, referring to the man who greeted her—and then served her a glass of wine—at Paltrow's home.
"No, he's a house manager," Paltrow responds. "He's the best. He's from Chicago. He's so incredible. He helps me with everything."
The entire exchange, which consisted of approximately 43 words, was one of the most buzzed-about takeaways from the piece. It even prompted The Times of London to publish an imagined "conversation" between the actress and her non-butler butler. Was it a classic case of Paltrow pretentiousness—or has GP stumbled upon a phenomenon just before it goes mainstream? (You know, as mainstream as household staff gets.)
In an effort to get to the bottom of this decidedly one-percent debate, we reached out to British American Household Staffing, an agency that provides formally trained estate managers, personal assistants, chauffeurs, governesses, butlers, and baby nurses to the kind of clientele that can afford it. Surely, they would be able to shed some light on the subject.
"She's ac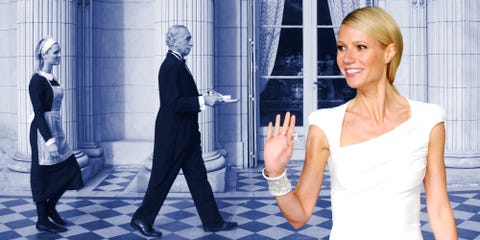 tually right," says BAHS president Anita Rogers. "They have very different backgrounds and different roles. A house manager oversees the structure of the staff and typically does all of the hiring and firing. They handle scheduling—making sure a chauffeur is always on call, housekeepers shifts are covered, and that a replacement is available if someone calls in sick. They're also responsible for the budgeting, financial planning, and overall management of household."
Butlers, on the other hand, are more service-oriented. "A seasoned butler is properly trained in etiquette, so they understand how to serve a meal and handle all the details, from the wine pairings down to the flower arranging," explains Rogers. "They provide a white glove experience, which not everyone needs or wants. In Silicon Valley, for instance, no one would have a butler. But in New York, it's much more common."
And while house managers frequently come from a hospitality background—often having worked as the chief of staff at a high-end hotel or resort—butlers are trained at a specialized and credited butler academy.
So there you have it. Gwyneth, Queen of Goop, was right all along. Of course she was. Did you really expect anything less?
Visit BAHS.com for more info.